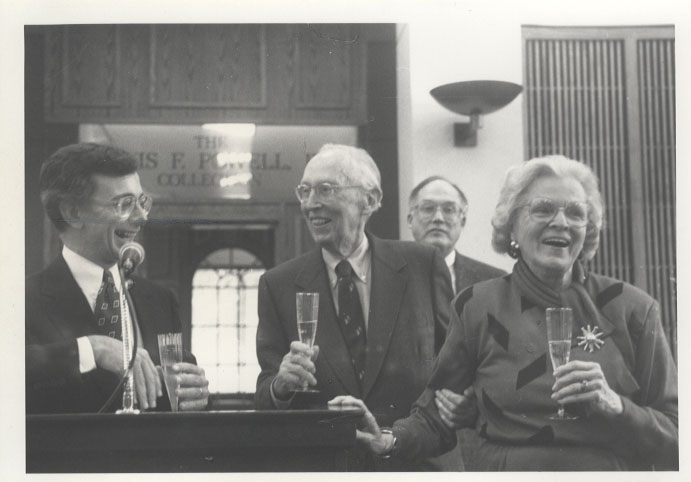 above — Dean Randall Bezanson, Justice Lewis F. Powell Jr., Chief Justice William H. Rehnquist, Josephine R. Powell at Dedication of the Lewis F. Powell Jr Archives.
Twenty-five years ago, on April 2-4, 1992, ceremonies, dinners and an academic symposium marked the dedication of the Lewis F. Powell Jr. Archives, and of the addition to the law building known as the Powell Wing. Justice Powell and dozens of his family members, personal friends and professional associates were in attendance. Distinguished speakers included Chief Justice William Rehnquist, Judges J. Harvie Wilkinson and Robert Merhige, Powell SCOTUS clerk and biographer John C. Jeffries, former Virginia Governor Linwood Holton and civil rights legend Oliver Hill. Academics presenting at the symposium included Scot Powe, Jean Love, Judith Resnik, Sanford Levinson and Catharine Wells. (Here are some documents related to those events.)
In the intervening quarter century, the Powell Papers have formed the basis of many books and articles, and contributed to hundreds more. Several documentary films have also used these materials.
The archives' mission and holdings have both greatly expanded since its inception. Its stacks are now home to more than two dozen manuscript collections, the retired administrative records of the law school, the rare book collection and records of student clinical programs.
The first library unit to have a website, the Archives now delivers, to researchers around the world via the Internet, more than 650 complete SCOTUS case files of Justice Powell, along with selected speeches, writings, correspondence and photos from his papers. Significant portions of other manuscript collections, most notably portions of the M. Caldwell Butler Papers and the complete Newton Baker Scrapbooks, have also been digitized and uploaded to our Scholarly Commons.
The Archives is also responsible for records management within the law school. An Archive-It subscription preserves the ever changing content of the law school website. The Archives also created many temporary physical exhibits. Several of these have been preserved in electronic form, and born digital displays are also available. Most recently, the Archives conceived and had professionally fabricated two permanent exhibits, on the late Dean Roy Steinheimer and on the ABA Presidents who are alumni of W&L Law.
The Archives looks forward to its next 25 years of meeting the challenges of a changing records landscape. Something that will remain unchanged, however, will be the primacy of service to students, faculty, administrators and the researching public.